State laws legalizing marijuana put Obama in a bind: What are his options?
Voters in Massachusetts, Washington, and Colorado have multiplied the points of conflict between state and federal marijuana laws, making it harder for Obama to formulate a consistent policy.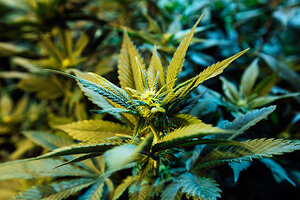 Ted S. Warren/AP
Last Tuesday was a banner day for those seeking to ease restrictions on marijuana use.
Massachusetts joined 17 other states that allow the medical use of marijuana. Voters in Washington and Colorado passed initiatives that would make their states the first in the country to allow recreational use of the drug.
One problem: The new initiatives put state law in direct conflict with federal law, under which marijuana is still classified as a Schedule I narcotic.
Officials in Colorado and Washington have said they'll comply with voters' wishes – though they've been up front about the fact that the federal government could make things complicated.
"The voters have spoken, and we have to respect their will," said Colorado Gov. John Hickenlooper the day after the election. "That said, federal law still says marijuana is an illegal drug, so don't break out the Cheetos or Goldfish too quickly."
The Department of Justice, meanwhile, is giving no indications of its plans. "In enacting the Controlled Substances Act, Congress determined that marijuana is a Schedule I controlled substance," department spokeswoman Nanda Chitre said last week. "We are reviewing the ballot initiative and have no additional comment at this time."
Some observers speculate that Attorney General Eric Holder may be on his way out, and will cede the decision of how to respond to his successor.
---