Susan Rice's 'worst week' could derail Secretary of State bid
As critics go after her comments on the Benghazi terrorist attack, Susan Rice's race, gender, and personality have become part of the debate over whether she should be the next Secretary of State. Even those who might have supported her are floating other names.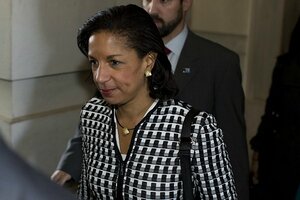 Evan Vucci/AP
Should President Obama nominate Susan Rice to be the next Secretary of State – and her loyal boss may have been pushed into doing so by the clatter of Senate Republicans eager to prevent that – Ambassador Rice already will have undergone a blistering public vetting.
Her race, her gender, her personality, and her personal investments – none of which have anything to do with her now-controversial comments shortly after the terrorist attack on the US consulate in Benghazi, Libya, in September – have been raised and chewed over by advocates and commentators.
The Washington Post's waggish Chris Cillizza has declared Rice's latest week "the worst in Washington … A weekly award honoring inhabitants of Planet Beltway."
We have learned, for example (courtesy of Scott Dodd, editor of OnEarth.org), that Rice "holds significant investments in more than a dozen Canadian oil companies and banks that would stand to benefit from expansion of the North American tar sands industry and construction of the proposed $7 billion Keystone XL pipeline."
---