GOP 'fiscal cliff' counteroffer: What's in it?
GOP leaders responded to President Obama's 'fiscal cliff' proposal with their own. It calls for new tax revenue and turns to a Democratic idea for spending cuts, but it doesn't raise tax rates.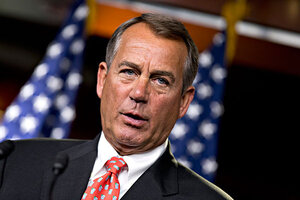 J. Scott Applewhite/AP
House Republicans have given President Obama their "fiscal cliff" counteroffer – and it comes with something for Republicans and Democrats alike to loathe.
Among the highlights: It would promise to raise new revenues by closing tax loopholes but not raise any tax rates, and it would set goals for spending cuts by simply choosing a number halfway between what Democrats and Republicans have proposed in the past.
The offer would reduce America's debt and deficit by $2.2 trillion during the next decade. Including figures that the White House often uses in its deficit proposals – interest savings and the reduced government spending from last year's Budget Control Act – the savings would reach $4.6 trillion.
Is the offer serious?
At this point, the who-blinks-first negotiating game is still in full swing, but the proposal does cross a Republican Rubicon with its willingness to raise some $800 billion in higher tax revenues. It does not lay out specifically how those revenues are to be achieved but suggests they will be obtained through reducing tax preferences and loopholes during a reform of the tax code next year.
"It's not as if we haven't learned anything from the conversations of the last 15 months," said a senior GOP aide, who gave a background briefing to reporters on condition of anonymity. "We know that they are not going to accept the type of structural reforms to the entitlement programs or other spending reductions without revenue. So, we are prepared to concede on that point."
---