Going over the 'fiscal cliff': why more are sounding ready to take the plunge
(Read article summary)
With negotiations still appearing stalled, a growing chorus on the left and right has been suggesting that a so-called "cliff dive" wouldn't be so bad. Better than cutting a bad deal, anyway.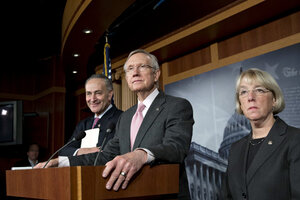 J. Scott Applewhite/AP
The back-and-forth over the so-called 'fiscal cliff' sounds a lot like "Groundhog Day" right now, as, day after day, each side accuses the other of failing to bring a serious proposal to the table, leaving the impression of a process that's basically stalled.
And while we still tend to think that a deal will be struck before year's end (Congress being essentially like newspaper journalists, needing the threat of an imminent deadline to get anything done), we've also been struck by the small-but-growing chorus of so-called "cliff divers" – partisans on both sides arguing that going over the cliff might actually be the most palatable option.
In many cases, of course, this kind of talk may just be part of the game of chicken, designed to scare the other side into making concessions.
But increasingly, some seem to be genuinely concluding that going over the cliff would in fact be the best choice – better than what they fear is shaping up to be a disastrous, hastily constructed deal on taxes and spending that would then be much harder to undo.
Initially, it was mostly those on the left voicing this argument – in part because that would actually accomplish one of their chief goals: ending the Bush tax cuts for the wealthy (and, the thinking goes, Democrats could then come back and reinstate the middle-class tax cuts in 2013). As far back as last summer, Sen. Patty Murray (D) of Washington said in a speech at the Brookings Institution: "I will absolutely continue this debate into 2013, rather than lock in a long-term deal this year that throws middle-class families under the bus."
Lately, a number of voices on the right have been making essentially the same case. "Our preferred strategy here would be to accept the sequester now, knowing that Congress is not going to do something more rational – they're not going to take on more fundamental spending reforms – and push off increasing taxes," Matt Kibbe, president of the conservative advocacy group FreedomWorks, told MSNBC Monday morning.
---