'Fiscal cliff' deal: What will it mean for you?
Some aspects of the fiscal cliff deal are well-known – such as rising tax rates on the rich. But, actually, everyone will be paying more taxes. Here's a look at the deal's details.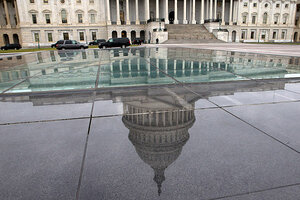 Jacquelyn Martin/AP
Your taxes are probably going up, but not as much as they would have without a "fiscal cliff" deal.
That's the short summary of what's in store for US households now that a fiscal bargain between the White House and Congress has been reached.
The welcome news for personal pocketbooks is that most Americans will see no change in their income-tax rates.
But the amount of taxes paid will still rise, for two major reasons: First, workers will owe 2 percent more of their paychecks to the government in 2013 because Congress is allowing a temporary payroll-tax cut to expire. Second, tax rates are rising for households that earn more than $450,000.
The goal of the legislation was to reduce federal deficits while also avoiding the so-called "cliff" of big tax hikes and federal spending cuts that had been scheduled for Jan. 1. If Congress took no action, the resulting shock to consumer pocketbooks could have thrown the US into recession, economists warned.
How will the fiscal bargain affect you? Here are some of the big possible ways, with income taxes listed last (but not least in importance):
The long-term unemployed. Emergency unemployment insurance benefits will be extended for a year, helping an estimated 2 million out-of-work Americans.
Milk drinkers. Dairy prices won't spike, thanks to this legislation. Without action to extend 2012 policies, milk prices appeared set to surge as US law reverted to a 1949 pricing system. To families that already feel as if milk is a personal budget-buster, this prospect was so fearsome that it had its own name: the "dairy cliff."
---