Gun control 101: Why is Obama pushing for new gun research?
A key part of President Obama's plan to rein in gun violence is his push to kick-start fresh gun-control-related research by federal agencies. Republicans have blocked such research in the past.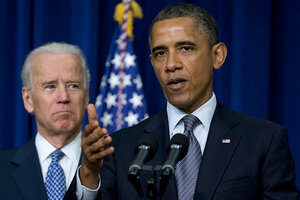 Carolyn Kaster/AP
This week President Obama outlined a sweeping package of proposed changes to America's gun laws, including a federal ban on the manufacture and sale of new assault weapons and an expansion of background checks on firearm purchasers. But proponents of gun control say one of the most important pieces of the plan may be a smaller, less-noticed move: Mr. Obama's attempt to end a 15-year ban on federal research into guns and violence.
For years, some members of Congress have effectively blocked the Centers for Disease Control and Prevention and other federal agencies from conducting such research due to concerns about pro-gun control bias. On Wednesday, Obama said he'd use the powers of the presidency to change that situation.
"While year after year those who oppose even modest gun safety measures have threatened to defund scientific or medical research into the causes of gun violence, I will direct the Centers for Disease Control to go ahead and study the best ways to reduce it.... We don't benefit from ignorance," said Obama.
Here are some basic questions and answers about the research issue:
What's stopping the government from studying guns and violence?
In 1996 some conservative members of Congress mounted an effort to eliminate the CDC's National Center for Injury Prevention and Control because they believed some researchers were cheerleaders for the anti-gun movement. In the end, they took the $2.6 million this center had spent on gun research the previous year, and earmarked it for brain-injury research. In addition, Congress added language to the CDC appropriation saying "none of the funds made available for injury prevention and control at the Centers for Disease Control and Prevention may be used to advocate or promote gun control."
---