Social Security and Medicare: Do you get back what you pay in?
People who pay into Social Security and Medicare their whole working lives are often told by politicians that they've 'earned' these retirement benefits. Here's why that's not necessarily so.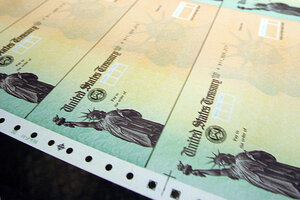 Bradley C Bower/AP/File
Are Social Security and Medicare "earned entitlements," returning benefits for which recipients have already paid?
The question arises because earlier this week House Budget Committee Chairman Paul Ryan (R) of Wisconsin said they are. Appearing on Laura Ingraham's radio show on Jan. 22, Representative Ryan said President Obama had mischaracterized the GOP's attitude toward the nation's big social insurance programs.
"No one is suggesting that what we call our earned entitlements – entitlements you pay for, like payroll taxes for Medicare and Social Security – are putting you in a 'taker' category," said Ryan. "No one would suggest that whatsoever."
Of course, Ryan is far from the only politician to describe Social Security and Medicare in this manner. The wording may be more common among Democrats, who often imply that these programs are simply keeping folks' tax cash warm until they need it – so hands off!
Let's quote Mr. Obama himself from an appearance last September before an American Association of Retired Persons audience: "I want to emphasize, Medicare and Social Security are not handouts. You've paid into these programs your whole lives. You've earned them."
To this we say, weelllll, not really. The situation is more complicated than that.
---