'Sequester' harm to economy? Maybe for longer than you think.
Economists say spending cuts from the budget sequester will slow growth in the GDP somewhat in the near term. But a new analysis says a reduction in innovation could double the long-term impact.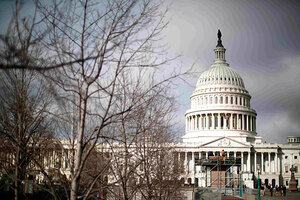 Jason Reed/Reuters
Scheduled cuts in federal spending could deal a sizable blow to the US economy this year, but won't tip the nation into recession.
That's what many economists conclude as they look at the so-called sequester that appears set to squeeze the federal budget starting Friday.
Here's one way to think of it: The gross domestic product has been growing tepidly, at an annual pace of about 2 percent. Prominent forecasters say the sequester, if implemented for the rest of the year, could knock about half a percentage point off that pace -- maybe a bit more, maybe a bit less.
But, some warn, the impacts come in ways you wouldn't expect.
Yes, the cuts would impose a sharp slowdown on defense contractors such as aerospace and ship-repair companies.
And yes, the cuts would pull spending out of the economy in a range of other ways: federal workers having smaller paychecks, fewer low-income families getting child-care subsidies, fewer seniors having access to Meals on Wheels, etc.
But, beyond those immediate subtractions of dollars from the economy, the spending cuts could affect GDP in a longer term way as well.
Many government programs represent investments in the future: in worker skills, in scientific research, and even in such mundane things as helping commerce flow by providing fully staffed air-traffic control towers.
Those programs face cuts, too.
"The most devastating, long-term effects from sequestration will be in innovation, and these could ultimately reduce U.S. GDP by over $200 billion per year," concludes an analysis released this week by economists at the Information Technology and Innovation Foundation, a Washington think tank.
That amount is double the roughly $100 billion in total annual spending cuts that the sequester would impose.
The group's report doesn't argue that federal deficits should be ignored. The sequester originated in federal law as a blunt tool, to ensure that if politicians couldn't agree on a substantial deficit-reduction plan, some spending cuts would be imposed automatically.
---