Why Republicans think Obama's back is against the wall on 'sequester'
President Obama has spent the past week trying to put Republicans on the defensive over the sequester. But many Republicans believe the pressure is on him.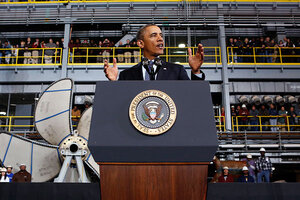 Kevin Lamarque/Reuters
On a chilly day in Washington this week, Rep. Dave Schweikert (R) of Arizona put his hands over the grate of a burning fireplace just off the House floor while discussing the "sequester," $85 billion in government spending cuts that will crimp the US economy from Friday until the end of the fiscal year on Sept. 30.
Despite the considerable efforts of President Obama, it seems, Congressman Schweikert was not feeling the heat.
For much of the past week, Mr. Obama has taken every opportunity to tell Americans that congressional (in other words, Republican) intransigence has failed to head off the sequester, which he has said will devastate the poor and the elderly, crush air travelers and school teachers, and pinch defense contractors and farmers.
Yet two half-hearted Senate bills to head off the sequester – one Republican and one Democratic – failed on Thursday to get the 60 votes needed to avoid a filibuster, and little is expected from Obama's conclave with congressional leaders Friday.
The unmistakable impression is that, despite the president's haranguing, and despite polls that show Americans (at least those paying attention) side with Obama, many Republicans aren't breaking a sweat.
The sequester, which amounts to a reduction of some 2.4 percent of the federal budget, "doesn't light them up," Schweikert says of his constituents. "It doesn't get them emotionally engaged," he adds, because with the bad economy, the idea of cutting back "is the reality they've been living in for the past several years."
In fact, these Republicans argue that it is the president – not Republicans – who is in the hot seat.
---