Gun control: Can Obama use Colorado bully pulpit to accomplish anything?
President Obama is pushing gun control in Denver Wednesday and will do the same in Hartford, Conn., next Monday. It's not clear he can move the public to pressure Congress on gun legislation, but it's worth a try, some say.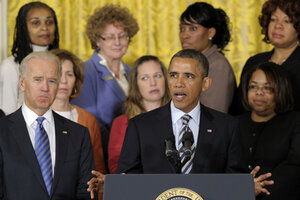 Susan Walsh/AP
President Obama travels to Colorado Wednesday to push for gun control, and to Connecticut next Monday for another such event – both aimed at getting Americans to pressure Congress to act on gun legislation.
Each state has witnessed some of the most horrific mass shootings in US history – two of them in Colorado – and has enacted (in the case of Colorado), or is about to enact (in the case of Connecticut), stricter limits on access to firearms and ammunition.
"It's now been just over 100 days since the murder of 20 innocent children and six brave educators in Newtown, Conn., shocked this country into doing something to protect our kids," Mr. Obama plans to say in Denver, according to excerpts of his remarks released by the White House.
"But consider this: Over those 100 days or so, more than 100 times as many Americans have fallen victim to gun violence. More than 2,000 of our fellow citizens, struck down, often just because they were in the wrong place at the wrong time. And every day we wait to do something about it, even more are stolen from our lives by a bullet from a gun."
The event in Denver and next week's in Hartford, Conn., follow last Thursday's emotional plea for action on guns by Obama, flanked by the mothers of young victims, at the White House. The president rejected criticism that he had allowed public support for more gun control to wane as memories of the Newtown massacre have faded. Though his actions that day, and since, suggest otherwise.
---