Boston Marathon bombing suspect: How many charges will he face?
Boston Marathon bombing suspect Dzhokhar Tsarnaev is unable to verbally communicate with investigators, but experts say the weight of the evidence against him points to federal terrorism charges.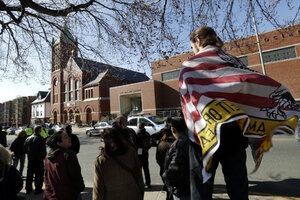 Elise Amendola/AP
Boston Marathon bombing suspect Dzhokhar Tsarnaev has yet to provide law enforcement authorities with much information. In large part this is due to medical issues, as he has been drifting in and out of consciousness since his apprehension on Friday evening, according to The Wall Street Journal.
Meanwhile, new circumstantial evidence is filling in a picture of a radicalized older brother, Tamerlan Tsarnaev, who perhaps influenced Dzhokhar and brought the latter into the alleged bomb plot. Tamerlan was killed in the brothers' getaway attempt on Friday.
In January, Tamerlan interrupted a speaker at a Cambridge mosque who compared the prophet Muhammad and the Rev. Martin Luther King Jr., reports The Boston Globe.
The elder Tsarnaev brother called the speaker at the Islamic Society of Boston mosque a nonbeliever, a "kaffir," and accused him of contaminating people's minds.
The congregation did not agree and "shouted him out of the mosque," Yusufi Vali, a spokesman for the mosque, told the Globe.
---