Touting Obamacare, US says millions could pay less than $100 a month
A report by HHS says 56 percent of uninsured could pay $100 or less (or nothing) for health coverage. Enrollment opens on Oct. 1, but public resistance to Obamacare is stronger than ever.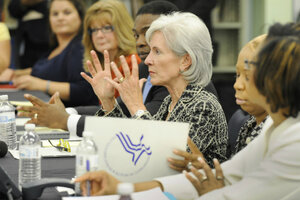 Bob Self/The Florida Times-Union, Bob Self/AP
Millions of Americans are about to discover the deal Uncle Sam is offering for health insurance: tax subsidies that bring the cost of coverage down to less than $100 a month.
Under Obamacare, an estimated 21.9 million uninsured Americans will be eligible to purchase subsidized health insurance via online marketplaces, which begin enrollment Oct. 1. Of those, nearly half – 10.8 million – may be able to buy insurance for $100 or less per month, after factoring in tax credits, according to a report issued Tuesday by the Department of Health and Human Services (HHS).
An additional 12.4 million uninsured Americans will be newly eligible for either Medicaid or the Children's Health Insurance Program, federal-state health-insurance programs for low-income people, the report says. This group will pay either a small premium or nothing.
"The health-care law is making health insurance more affordable," HHS Secretary Kathleen Sebelius said in a statement.
The report's release, two weeks before the Oct. 1 launch of the marketplaces, comes as part the Obama administration's efforts to heighten awareness and acceptance of the 2010 Patient Protection and Affordable Care Act (ACA), Obamacare's formal title.
The challenge is daunting: Nearly 40 percent of those without insurance polled by USA Today/Pew Research Center said they did not know that the law requires them to get health insurance next year. Among young adults, whom the administration is counting on to participate, only 56 percent know that buying insurance is mandatory or else they will face a fine.
---