Secret Washington: Where to go to get away from the crowds
(Read article summary)
Who knew Washington has more than monuments and steakhouses? Among our top-secret spots: a grotto, a terrace with a view, and a gargoyle carved in the shape of Darth Vader.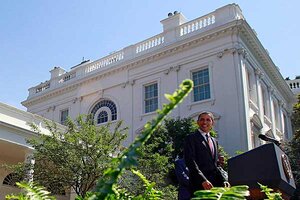 Jim Young/Reuters
You're planning a trip to Washington this summer. Is there nothing we can do to dissuade you? The traffic here is bad enough as it is.
No, you're coming for certain, and you want some tips on what to see. OK then. Here is Decoder's clip-and-save guide to secret D.C.: The places we used to go before we had kids.
THE SUMMER HOUSE ON THE CAPITOL LAWN. This is a great place to rest after you've exhausted yourself trying to find out where the heck the entrance is to the Capitol tour. It's a shady, brick hexagon on the West Lawn, designed by the famous landscape architect Frederick Law Olmsted and completed in the late 1880s. There's a bubbling fountain and even a grotto.
THE PEACOCK ROOM. This is a great place to get away from the Smithsonian's tourist crowds. It's a sumptuous green and gold dining room created in the 1870s by the American artist James McNeill Whistler. Very Oriental and Arts-and-Crafts-like. It's in the Freer Gallery, which is east of the Smithsonian castle, on the Mall.
---