Smoke the shad, press the flesh: a Virginia political ritual past its prime?
(Read article summary)
Republicans dominate one of Virginia's oldest political events, the annual 'Shad Planking' in Wakefield. This is no longer Democrat-friendly turf, but attendees still see reason for Democratic candidates to come.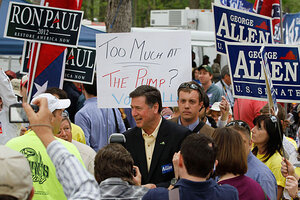 Steve Helber/AP
Making his way through the throngs at the annual "Shad Planking" in Wakefield, Va., former Virginia Gov. George Allen ran into Bernard Blackwell, who reminded him of a 1996 trip he made as governor to Mr. Blackwell's grandmother's house in rural Northern Neck after a hurricane all but destroyed it.
Blackwell was at a loss for words after Mr. Allen, now a Republican candidate for the US Senate, recalled one key detail: He had come across the grandmother's stray dog in a nearby field. "I can't believe he remembered the dog," Blackwell said afterward.
At a moment when "super political-action committees" can flood the airwaves with unlimited amounts of money and campaigns are plunging into social media, the Planking – one of Virginia's oldest political festivals, where politicians break bread with regular Joes over smoked shad – shows that good ol' retail politicking still flies.
"This is the way politics ought to be," Allen said in his keynote speech, "with people actually talking eye-to-eye with each other."
While Allen and Democratic nominee Tim Kaine, another ex-governor and former head of the Democratic National Committee, have lots of events around the commonwealth, those appearances are usually targeted to key groups, such as members of their own political party, small-business owners, or veterans.
---