What do women voters want? In a word: jobs.
(Read article summary)
Swing women voters put the economy and jobs at the top of their list of concerns, a new report shows. Presumptive GOP nominee Mitt Romney has been closing the gender gap.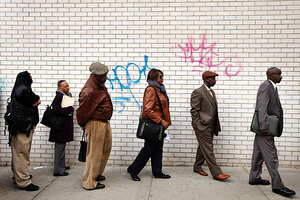 Lucas Jackson/Reuters/File
We just finished reading a new report on swing female voters, which is based on a series of focus groups conducted earlier this month in Las Vegas and Philadelphia by the GOP polling firm Fabrizio McLaughlin & Associates and sponsored by the Young Guns Network, a group affiliated with House majority leader Eric Cantor. All the women in these groups either had voted in 2010 for a Republican candidate for governor or had not voted at all, but were now leaning toward President Obama or were undecided.
(We're not sure why the sampling of swing voters didn't also include women who had voted for a Democrat in 2010 but were now leaning toward Mitt Romney – though we'd imagine those women are harder to find, given that 2010 was a terrible year for Democrats, and Mr. Romney currently trails Mr. Obama among women by a considerable, though shrinking, margin.)
Obviously, focus groups, being by definition small, aren't representative of voting populations as a whole. But they can still be enlightening, since they offer a level of insight that polling can't provide into what real voters are thinking.
The two biggest takeaways from this report: Female swing voters, not surprisingly, care waaaay more about the economy and jobs than any other issue, including so-called "women's issues." And many are not well-informed when it comes to politics and government. (Example: Some participants named Hillary Rodham Clinton and Sarah Palin as current members of Congress.)
---