Gender gap daunting for GOP: Why women's vote is key
The gender gap for the next election is daunting for Mitt Romney as President Obama leads the likely GOP nominee among women in major polls. With simply more women voters, can he overcome it between now and November?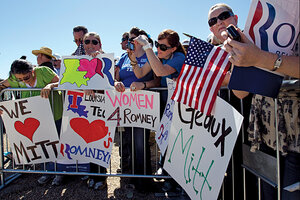 Steven Senne/AP
Democratic women are pumped. The Republican Party has just taken an emotionally wrenching detour on an issue no one expected to emerge in the 2012 campaign: birth control. And Democrats believe they have a winning issue that can help President Obama to a second term.
But it won't be so simple, despite the latest USA Today/Gallup poll that shows President Obama leading Mitt Romney among women in battleground states by 18 points.
Mr. Romney – not culture warrior Rick Santorum – is the likely Republican nominee, and he's focusing his campaign on the economy, not reproductive matters. Jobs and gas prices are what voters care about most, especially independent voters, who will decide the election.
At the heart of the matter is the gender gap. Men and women have diverged in every presidential race since 1980. In 2008, Mr. Obama won 56 percent of the female vote (versus 43 percent for John McCain) and 49 percent of the male vote (to Senator McCain's 48 percent), for a seven-point gender gap. For now, Obama leads Mr. Romney among women in major polls – by 20 points in the latest Pew Research Center poll, fewer in others – and is tied or trailing Romney among men.
---