Democrats campaign for Paycheck Fairness Act ahead of Tuesday vote
(Read article summary)
But the bill, which would provide several protections for women in the workplace, is unlikely to overcome a filibuster by Senate Republicans.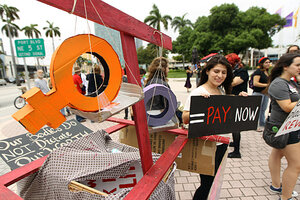 J Pat Carter/AP
Democrats on Monday took to the press to try to drum up support for the Paycheck Fairness Act, a bill to ensure equal pay in the workplace between men and women of equal qualification, despite expectations that Republicans will filibuster its passage.
President Obama, White House senior adviser Valerie Jarrett, and Sens. Barbara Mikulski (D) of Maryland and Chuck Schumer (D) of New York all joined conference calls to talk up the legislation on Monday ahead of its scheduled vote in the Senate on Tuesday.
Why the outreach, even though the bill is widely expected to fail to hit the 60 votes needed to beat a Senate filibuster? First, the legislation is near and dear to Democrats' hearts. Senator Mikulski and Rep. Rosa DeLauro (D) of Connecticut have been introducing versions of the measure for more than a decade.
---