Could Congress jail Attorney General Eric Holder for contempt?
(Read article summary)
Congress has jailed those deemed in contempt before but never a sitting Cabinet official – and not recently. Moreover, the few times Congress has locked down people within the Capitol, it has not turned out well for Congress.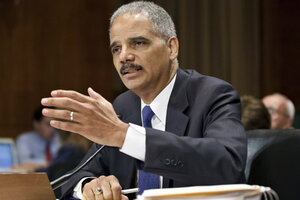 J. Scott Applewhite/AP/File
When the House of Representatives found Attorney General Eric Holder in contempt of Congress Thursday, the afternoon was brimming with drama.
The leaders of the House Government Oversight Committee traded barbed comments on the House floor. Republicans passionately argued that their quest was about providing closure to the family of US border agent Brian Terry, whose murder was linked to weapons from a "gunwalking" operation in Arizona known as Fast and Furious. It was that operation that prompted Congress's investigation into the Justice Department and Mr. Holder.
Democrats, lead by civil rights hero Rep. John Lewis (D) of Georgia arm-in-arm with House minority leader Nancy Pelosi (D) of California, walked off the House floor during the contempt votes. They marched en masse to the lawn outside the Capitol to protest what they called a Republican "kangaroo court" aimed not at investigating why guns were allowed to pass into the hands of Mexican drug cartels but, instead, at claiming Holder's political scalp.
But one dramatic turn that didn't come to pass? The House sending the sergeant-at-arms to arrest the attorney general and imprison him in the Capitol until it gets its way. That's a move well within congressional rights with a contempt resolution, albeit one that hasn't been tried in about a century.
---