How to tell Mitt Romney is no 'wimp'? Take that, Harry Reid.
(Read article summary)
Mitt Romney says Senate majority leader Harry Reid should 'put up or shut up' in response to Reid's accusations that he didn't pay taxes for 10 years. Will lines like that help him win over voters?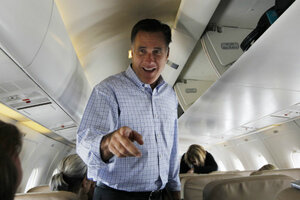 Charles Dharapak/AP
Suddenly, Mitt Romney is talking tough.
In a radio interview with Sean Hannity on Thursday, Mr. Romney was asked about Senate majority leader Harry Reid's allegations that an unnamed Bain Capital investor had told him that Mr. Romney had not paid any taxes for 10 years.
Romney's response: Senator Reid should "put up or shut up."
Yes, the famously straight-laced GOP nominee – who, in what we're sure is a massive coincidence, was recently labeled a "wimp" on the cover of Newsweek – is now using lines reminiscent of a Clint Eastwood movie.
At least he didn't say "shove it" or "kiss my [posterior]" (that was just his press aide).
Still, it made us squirm a little.
Not because Romney's choice of words violated any sort of political decorum. These days, politicians routinely use far saltier language than that, and often the public seems to like it. New Jersey Gov. Chris Christie's blunt retorts – such as calling an opponent "an arrogant S.O.B." or telling coastal residents resisting a hurricane evacuation to "get the hell off the beach" – are widely seen as part of his appeal. Vice President Joe Biden famously dropped an f-bomb (albeit when he thought he couldn't be heard) at the signing ceremony for the president's health-care reform bill.
---