Is Bush making a comeback? Why two Democrats mention him uncritically.
(Read article summary)
Former President Bush appears invisible to the Romney campaign and others in the GOP, but two Democratic Senate candidates, from Virginia and Arizona, show him in ads touting their bipartisanship.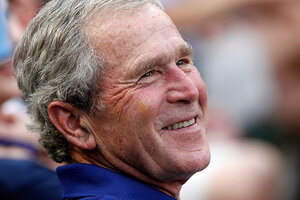 LM Otero/AP/File
Don't look now, but President George W. Bush is making a comeback of sorts – in the service of two Democratic candidates for the Senate who are emphasizing bipartisanship.
There is the affable Dubya smiling with former Virginia Gov. Tim Kaine (D) in a recent TV advertisement in Mr. Kaine's race against another former Commonwealth governor, Republican George Allen.
"I don't agree with any president all the time, but I know that when our nation succeeds, Virginia succeeds," Kaine says in the ad, called "Partner," that the campaign released last week.
"As governor, I worked with the Bush administration to build Rail-To-Dulles," Kaine says of a long-awaited public transit line to the busy northern Virginia airport as a picture of Mr. Bush and Kaine flashes on screen.
Then, moving to an image of Kaine and the current president, he continues, "and with the Obama administration to stop an aircraft carrier from moving out of Virginia."
Richard Carmona, the Democratic challenger for an open Senate seat in Arizona, has not one but two pictures with the second President Bush on his "Republicans for Carmona" Web page. Therein, Mr. Carmona touts being nominated for his tenure as US surgeon general by Bush back in 2002. (He was confirmed unanimously by the Senate.)
---