Presidential debate 101: Where did Romney get those 'binders full of women'?
(Read article summary)
Mitt Romney misspoke at the presidential debate when he said he'd asked women's groups to help find qualified women for top Massachusetts jobs. In fact, they initiated the binders. But Romney did use them – and did appoint more women to leadership positions than other governors.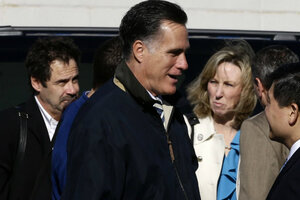 Charles Dharapak/AP
As governor of Massachusetts, did Mitt Romney assemble binders full of female candidates for appointive state jobs?
This question arises, of course, because of an unusual moment from Tuesday night's presidential debate at Hofstra University in New York. Asked a question about his position on pay equity for women, Mr. Romney zigged and talked about encouraging gender equity in Bay State government jobs after he won the governor's chair in 2002.
"I had the chance to pull together a cabinet and all the applicants seemed to be men," said Romney on Tuesday. "And I went to my staff and I said, 'How come all the people for these jobs are all men?' "
After his staff said the résumés reflected people with qualifications for the posts in question, Romney pushed them to expand their search, according to his debate-night account.
"I went to a number of women's groups and said, 'Can you help us find folks?' " said Romney. "And [they] brought us whole binders full of women. I was proud of the fact that after I staffed my cabinet and my senior staff that the University of New York in Albany did a survey of all 50 states and concluded that mine had more women in senior leadership positions than any other state in America."
---