Presidential polls: Where presidential race stands as hurricane Sandy buffets US politics
(Read article summary)
Presidential polls: Hurricane Sandy is interfering with pollsters' ability to collect accurate data about the public's views on the presidential race. Here's a status report on where the Obama-Romney contest stood pre-Sandy.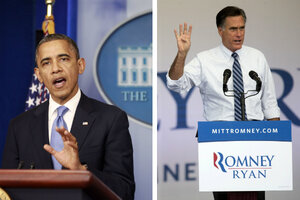 Jason Reed/Reuters, Julie Jacobson/AP
Election polling is among the many American activities hurricane Sandy is disrupting. At least two major tracking polls – the Gallup poll and the Investor's Business Daily/TIPP survey – have suspended operations as the gigantic storm sweeps across much of the US Northeast. Other pollsters might find their jobs more complicated if millions of households in the region lose power and become unreachable by phone.
That said, now might be a good time to sit back and look at overall polling measures of the presidential race. It could be the last time prior to Election Day that we get to see numbers that haven't been swung one way or another by falling wires and flooded roads.
For major compendiums of polls – which crunch together lots of surveys to try to mitigate the errors and chance inherent in the business – the bottom line remains as it has for some time now: Republican Mitt Romney retains a narrow edge, so narrow that it falls within the margin of error of the enterprise.
---