Is Sarah Palin's political career really over?
(Read article summary)
Lest anyone forget, Sarah Palin has a PAC with almost $1.2 million cash on hand. She may be out at Fox News, but she's got a lot of money to invest in GOP candidates or, if she opts to run for office again, herself.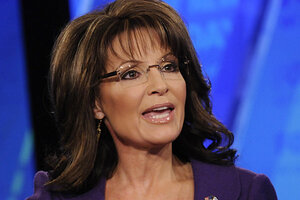 Fred Watkins/Fox News/AP
Is Sarah Palin's political career really over? You'd sure think so by the tone of the mainstream media's coverage of her and Fox News parting ways. Many headlines on this story have employed the past tense – "What Sarah Palin Meant" at the Washington Post's political blog The Fix, for instance. Our Decoder colleague Brad Knickerbocker wrote up a career retrospective for Ms. Palin after the news broke.
"If this is sounding like a political obituary for Sarah Palin, it may well be," he wrote.
Look, we get that Palin's own electoral prospects are dim, to say the least. It wasn't that long ago that one of the biggest questions in American politics was whether she'd run for president. Now the former Alaska governor has been surpassed by so many other tea party conservatives that Fox News chief Roger Ailes can't be bothered to keep her on retainer. Her own actions damaged her political brand – remember the episodic bus tour? The stop at Paul Revere's house, where she mangled the Revere story? The Alaska-based reality show?
But if cable news ubiquity really equaled electoral viability we might now be living through President James Carville's second term. Plus – and this is something we think has been overlooked – Sarah Palin is sitting on more than a million dollars in political money. That alone could ensure she continues as a national player.
---