State of the Union: Who's coming besides Ted Nugent?
(Read article summary)
In the audience for Obama's State of the Union speech will be several Americans touched by gun violence and a group of undocumented immigrants – human reminders of the president's coming legislative challenges.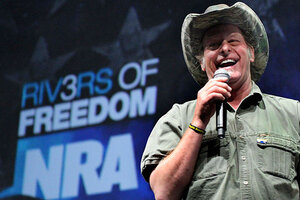 Gene J. Puskar/AP/File
When President Obama steps into the House chamber Tuesday night to give his State of the Union address, the crowd staring back at him will be an unusually demanding one.
The audience will include more than 30 Americans touched by gun violence and several undocumented immigrants – a human face on two of the most significant legislative challenges Mr. Obama will face in the coming year.
It's typical that lawmakers extend their single guest ticket to a representative of one of their cherished causes or a constituent with special relevance to the night's proceedings.
For instance, House Speaker John Boehner (R) of Ohio – who gets extra tickets for his high rank – has a guest list featuring two students and one principal from a Catholic school – an institution dear to him – and a former batboy from the Cincinnati Reds with an inspirational story, among others.
More than two dozen Democratic lawmakers, however, banded together to give their coveted tickets to a bloc of gun-violence victims – a counterweight to the widely discussed choice of Rep. Steve Stockman (R), of Texas, to invite rock star and gun rights advocate Ted Nugent. The Democratic effort was spearheaded by Rep. James Langevin (D) of Rhode Island, who was paralyzed from the neck down in a firearms accident as a young police recruit.
---