Was Ashley Judd sabotaged by rival Democrats?
(Read article summary)
Ashley Judd was forced out of the Kentucky Senate race by Democrats, says an adviser. But, in many ways, the charges he makes sound a lot like typical, sharp-elbowed politics.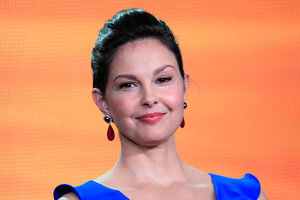 Lucy Nicholson/Reuters/File
Was Ashley Judd's Kentucky Senate bid undone by rival Democrats? That's the charge Judd adviser Jonathan Miller is making today in a piece on The Daily Beast.
Mr. Miller, a former Kentucky state treasurer, writes that Democratic supporters of current Kentucky secretary of state Alison Lundergan Grimes kept up a steady stream of sniping at Ms. Judd via a credulous national mainstream media. Furthermore, some unnamed Democrat circulated a false report that Judd, at a private Louisville dinner, said "I have been raped twice, so I think I can handle Mitch McConnell."
"I was at that dinner and never heard her say anything remotely like that," writes Miller.
The last straw was news stories reporting that former President Bill Clinton had met with Ms. Grimes and was trying to force Judd out of the race. The problem here was that the Big Dog had met with Judd and actually urged her to run against incumbent GOP Senate minority leader McConnell, according to Miller.
---