Washington Post sold to Jeff Bezos: End of old media or new hope?
(Read article summary)
Amazon.com founder Jeff Bezos says he's not out to change Washington Post values or micromanage operations. He has a record of investing for the long term and presiding over profitable enterprises.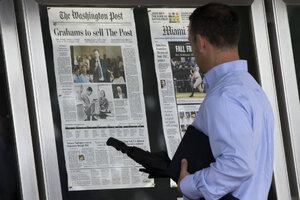 Evan Vucci/AP
There was shock and sadness in Washington Monday afternoon as headlines marked: "An era to end as Post is sold."
Word that, after 80 years, the Graham family would part with the crown jewel of its empire – the storied but struggling Washington Post – to the tune of $250 million rocked the city. The news that the buyer is Amazon.com's Jeff Bezos, who despite his documented genius as an Internet commerce entrepreneur has no experience in traditional print journalism, sent politicos and scribes into analysis overdrive.
Does this transition provide a glaring sign of the nearing end for print, the demise of which has been heralded for at least a decade as other city papers have been sold by devoted family dynasties to journalism novices whose focus is the bottom line? Or, once the obituaries of the Post 'as we knew it' are processed, might there be a silver lining here?
Opinions are mixed.
"Bezos re-Kindles hope at WaPo," wrote Politico.
The Atlantic called the sale, "A moment that will define an era's upheaval in journalism."
In the hours after the announcement, shares of the Washington Post Co. climbed to $599.85, their highest level in almost five years, according to Reuters. A glimmer of hope.
What seems to be consensus across these and other diagnoses, and is reflected in the market's response, is that the paper, as it was, would not have lasted. It was hemorrhaging cash and losing readers. Growth in advertising revenue proved elusive. And while the Grahams had over the years sought to boost the company's portfolio by acquiring other money makers – notably the test preparation outfit Kaplan Inc. – it wasn't enough to offset red ink since 2008 from the newspaper division.
---