Why is Obama awarding Oprah Winfrey the Medal of Freedom?
(Read article summary)
The list of 2013 Presidential Medal of Freedom winners was released Thursday. There was an Illinois trend because, well, the president alone is the decider.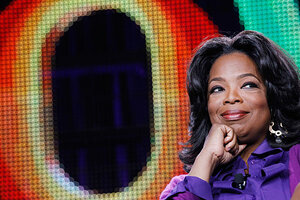 Mario Anzuoni/Reuters/File
Broadcast host/entrepreneur Oprah Winfrey is getting the Presidential Medal of Freedom.
So are women's rights advocate Gloria Steinem, ex-Washington Post editor Ben Bradlee, and Cub great Ernie Banks. Oh, and former President Bill Clinton. Can't forget him.
They're among the most famous names on the just-released list of 2013 Medal of Freedom winners. Established in its current form by President John F. Kennedy in 1963, the Medal of Freedom is the highest civilian award bestowed by the US government.
"This year's honorees have been blessed with extraordinary talent, but what sets them apart is their gift for sharing that talent with the world," said President Obama in a statement.
US chief executives have hung the Medal of Freedom ribbon around the necks of some of the greatest names in modern US cultural and political history, as well as a scattering of eminent foreign leaders.
But it's no disrespect to the winners' credentials to note that the process for deciding who gets one is not exactly as rigorous as that involved with, say, winning Best Picture at the Academy Awards.
---