Healthcare summit: More like a duel at dawn than a garden party
(Read article summary)
The White House has invited congressional Republicans to join Democrats for a healthcare summit to be moderated by President Obama and broadcast live. But Obama says legislative proposals should be on the table, and the GOP wants to start from scratch.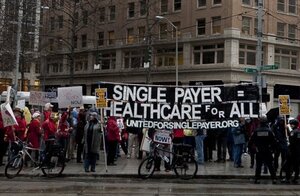 Stephen Brashear/AP
The tone is like a hand-engraved invitation to a formal garden party. But the event is more likely to resemble a duel with pistols at dawn – designated seconds to carry the weaponry, insults to honor stated ahead of time, perhaps a physician in attendance.
That's the invitation the White House has sent to senior Republican lawmakers requesting their presence at a Blair House summit meeting Feb. 25 to discuss healthcare reform.
Signed by White House chief of staff Rahm Emanuel and Secretary of Health and Human Services Kathleen Sebelius – good cop, bad cop? – the invitation is addressed to House speaker Nancy Pelosi and Senate majority leader Harry Reid and their GOP counterparts Rep. John Boehner and Sen. Mitch McConnell.
Formalities laid out
Like a duel, there are formalities laid out.
Who should attend: Senior House/Senate leadership, chairmen and ranking members of relevant congressional committees, four additional members, plus one staff member specializing in healthcare policy. Metal detectors at the door of Blair House. (Just kidding about that.)
---