Carly Fiorina's bizarre ad II: Barbara Boxer as 'demon blimp'
(Read article summary)
Carly Fiorina, the former Hewlett-Packard CEO who's running for a US Senate seat, released a strange attack ad last month against an opponent in the GOP primary. Now, she's released 'demon blimp' – an attack on Sen. Barbara Boxer, the woman she wants to unseat.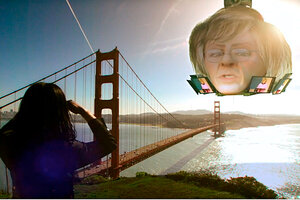 Youtube screenshot
Look in the sky! It's a bird, it's a plane, it's ... Barbara Boxer's head blown up into a zeppelin, frightening taxpayers as it drifts west out of Washington, D.C.!
Wow. This can only mean one thing: The folks who brought us the "demon sheep" political attack ad are at it again. And an entire genre of US campaign communications may never be the same again.
First, some background. Last month former Hewlett-Packard CEO Carly Fiorina, who is running for the US Senate in California, released an ad that depicted former US Rep. Tom Campbell, an opponent in the GOP primary, as a glowing-eyed, demonic wolf in sheep's clothing.
Initial discussion about this ad focused on whether it was the worst such commercial of all time, or merely the worst of the past several years.
Besides the demon sheep, it had Greek columns, lightning, inexplicable floating acronyms, and background music that was more of an atonal hum.
"Demon sheep" was so bizarre, it made the new "Alice in Wonderland" movie look as plain as a C-SPAN broadcast of House proceedings.
But Fiorina campaign officials said they were happy with the buzz the ad produced, and they promised more such salvos in the future.
They weren't kidding.
---