Hawaii slams door on 'birthers,' who turn to Obama Social Security number
(Read article summary)
Tired of repeated requests for President Obama's birth certificate – often from the same people – Hawaii has adopted a law that allows the state to deny such requests. But 'birthers' are now questioning a different document: the Obama Social Security number.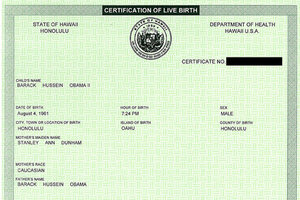 Chicago Tribune/MCT/Newscom
Hawaii is saying 'Aloha' to the "birthers."
The state government can legally ignore repeated requests for President Obama's birth certificate – a blow (or perhaps a publicity boost) to the birther movement, which claims that Mr. Obama was not born the US, and is therefore not eligible to be president.
The birthers are instead turning to another claim against Obama's legitimacy: an Internet rumor that questions the Obama social security number. Two private investigators claim that the digits indicate that it was issued in Connecticut, not Hawaii. (The digits in a social security number are allocated based on state of residence when issued.) They also say his social security number belongs to someone born in 1890.
In Hawaii, the Republican Gov. Linda Lingle signed the birth certificate bill into law Wednesday.
The Hawaii Department of Health, apparently, has had enough. It receives about 50 requests for Obama's birth certificate every month, according to the agency's director, Dr. Chiyome Fukino. And those requests come mostly from the same four to five people, she said in a testimony before the state legislature in February.
"The time and state resources it takes to respond to these often convoluted inquiries are considerable," she said in the testimony.
Sure, but wasn't Obama the guy who proclaimed, "Transparency and the rule of law will be the touchstones of this presidency," in welcoming remarks to his cabinet and senior staff just one day after he took the oath of office?
---