Sarah Palin vs. Emily's List: a Twitter 'feminist' feud
(Read article summary)
Emily's List, which raises money for Democratic women candidates who back abortion rights, is taking on Sarah Palin with its Sarah Doesn't Speak for Me campaign. Ms. Palin poked back Wednesday via Twitter.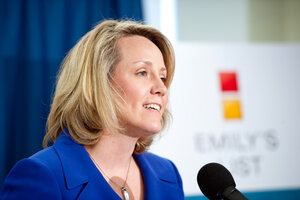 Bill Clark/Roll Call via Getty Images/Newscom/File
Women certainly have come a long way, baby. Ninety years ago today, American women finally gained the right to vote.
Maybe it was inevitable that, as more women became active in politics, divisions would grow more pronounced. Today, with Sarah Palin and Michele Bachmann leading the charge, conservative women are taking on the liberals like never before.
Now the group Emily's List, which raises money for abortion rights Democratic women candidates, is fighting back and taking on former Governor Palin in a campaign called Sarah Doesn't Speak for Me. The campaign is a response to Palin's "mama grizzly" endorsements of conservative anti-abortion women candidates around the country (a club that grew on Wednesday, as Palin took to her Facebook page and endorsed seven more women).
"Throughout this cycle, Sarah Palin has predicted a rising tide of mothers and women voters who will support her so-called 'Mama Grizzly' candidates," EMILY's List President Stephanie Schriock said in a statement announcing the campaign. "Palin has made it her mission to defeat candidates who have worked hard to champion the rights of women and families across the country and replace them with conservative candidates who want to repeal health care, stand with big business, and eliminate a woman's right to choose."
---
Follow Stories Like This
Get the Monitor stories you care about delivered to your inbox.