Glenn Beck rally attendance: calculating how many really showed up
(Read article summary)
Glenn Beck rally attendance has become hotly contested following Saturday's event in Washington. But from Woodstock to the Million Man March, figuring out the number of people who show up at big events has never been easy.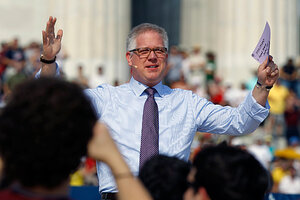 Alex Brandon/AP
Can we really get an accurate count of the number of people who attended Saturday's Glenn Beck "Restoring Honor" rally? The answer might be, "No, we can't."
Crowd-counting science is far from exact. Much of it is based on examination of overhead photos to calculate crowd density and related statistics. It reminds us of the old intelligence agency practice of "shedology," in which the Central Intelligence Agency and others estimated Soviet weapons numbers by looking at overhead photos of military sheds and calculating how many tanks they might hold.
Plus, numbers are inevitably colored by an estimator's interest. Rally organizers usually say crowds were huge, bigger than expected. Critics will say the numbers were less than anticipated. That's been the case for years.
That's led to controversy in the past. In October 1995, the National Park Service estimated that about 400,000 people attended the "Million Man March" organized by the Nation of Islam and Louis Farrakhan. Organizers were so angry they sent lawyers to meet with the Park Service.
Shortly thereafter, the Boston University Center for Remote Sensing estimated that the crowd had been 837,000, plus or minus 20 percent. What was the difference? The Park Service counted via pictures taken from videotape. The Center for Remote Sensing used original photo negatives.
---