Mike Castle: Is he the next Lisa Murkowski?
(Read article summary)
The Tea Party Express is targeting Mike Castle in the Delaware Republican Senate primary. But there are reasons the group might not duplicate the success it had in the Alaska GOP primary.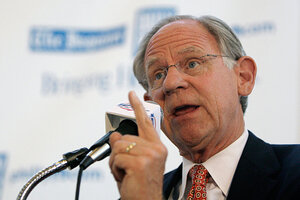 Matt Slocum/AP/file
Is Mike Castle the next Lisa Murkowski?
The Tea Party Express insists that he is. The group's leaders say they are going to help defeat Congressman Castle in the upcoming Delaware GOP Senate primary – just like they helped knock off incumbent Sen. Lisa Murkowski in Alaska.
The Tea Party Express has pumped $250,000 into ads boosting Christine O'Donnell, the "tea party" favorite who in this drama is attempting to play the part of Joe Miller. (Remember him? He's the Fairbanks lawyer who beat Murkowski.)
Castle, a former Delaware governor and the longest-serving congressman in Delaware history, is just too liberal, say tea party activists. Ms. O'Donnell, a marketing consultant, tried to make that point Tuesday during a surprise appearance at a tea party gathering in a Wilmington, Del., hotel.
---