Sen. Jim DeMint and 'tea party': architects of a GOP makeover?
(Read article summary)
Sen. Jim DeMint of South Carolina has embraced the tea party movement more enthusiastically than most of his GOP congressional colleagues. Critics say he's hurting more than he's helping.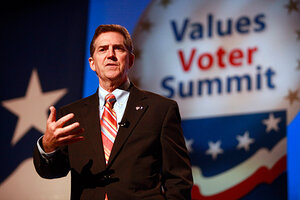 Jacquelyn Martin/AP
Is Jim DeMint killing his party, or is he getting it back on track?
Like Sarah Palin, the senator from South Carolina has been a major factor in Republican primaries this year, lending his support to upstart "tea party" candidates taking on the establishment. Many of those candidates – from Joe Miller in Alaska to Christine O'Donnell in Delaware – have succeeded in winning the GOP nomination.
But there's a big difference, too. Senator DeMint, unlike Ms. Palin, is himself part of the establishment, the highest-ranking politician associated with the tea party, having served in Washington for 10 years. His split with most of his congressional colleagues has been making waves within the party.
As DeMint sees it, he's just helping the party survive.
---