'She's our friend': GOP reverses course, doesn't demote Lisa Murkowski
(Read article summary)
Sen. Lisa Murkowski angered GOP colleagues by reentering the Alaska Senate race as a write-in candidate. But they didn't have the heart to strip her of a leading role on the energy committee.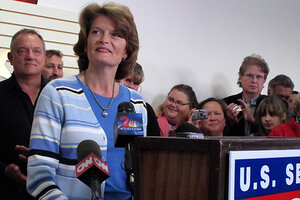 Dan Joling/AP/file
In a surprise move, Senate Republicans did not vote to drop one of their own, Sen. Lisa Murkowski of Alaska, as top Republican on the Energy and Natural Resources Committee.
Senator Murkowski's decision to mount a write-in campaign after losing her primary to "tea party" backed attorney Joe Miller angered many of her Senate colleagues. Even a failed bid risks splitting the Republican vote in Alaska, giving Democrats an unexpected pickup and curbing GOP prospects for taking back the Senate.
On Wednesday, the caucus did replace Murkowski with Sen. John Barrasso (R) of Wyoming as vice chair of the Republican Conference – the policy wing of Senate Republicans – but it declined to go further.
In the end, a Senator's a Senator for A'That.
---