Karl Rove group spends big in Election 2010, but is it legal?
(Read article summary)
GOP strategist Karl Rove is sending big money to Republicans in close Election 2010 races. But two campaign watchdogs are asking the IRS to investigate his tax-exempt 'social welfare' group.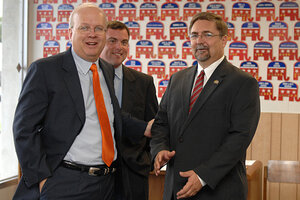 John Carrington/Savannah Morning News/AP/File
Karl Rove, the veteran GOP strategist who helped put George W. Bush in the White House, is looking to become a big player in Election 2010, helping to fund Republican candidates thought to have a chance of unseating Democrats.
According to some, he's operating outside of the rulebook.
Tuesday, two groups conceived of by Mr. Rove and Ed Gillespie, another Republican strategist and former Republican National Committee chairman, announced a huge $4.2 million ad buy in eight contested Senate races, Politico reported. To date, the two groups – American Crossroads and Crossroads GPS – have spent about $18 million on campaigns, most of it on ads. [Editor's note: The original paragraph has been modified to accurately describe the relationships of Rove and Gillespie to American Crossroads and Crossroads GPS.]
It's not just the spending that is gaining attention, but the way the groups are doing it.
Crossroads GPS is set up as a 501(c)(4) organization, which means it doesn't have to disclose who its donors are. The promise of anonymity enables it to raise much larger sums of money. American Crossroads, a 527 group, does have to disclose its donors. But the majority of funds spent by the Crossroads groups so far have come from unnamed sources, and Tuesday, two nonpartisan campaign-finance watchdog groups challenged the legality of their spending, asking the IRS to investigate Crossroads GPS.
---