Campaign finance: Republicans block bill to identify ad sponsors
Senate Republicans blocked a campaign finance bill that would require special interest groups running campaign ads to identify their donors. Republicans dismissed Democratic efforts as a midterm election ploy.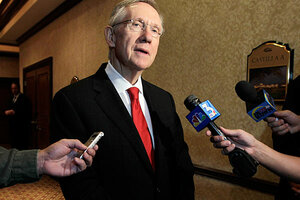 Julie Jacobson/AP
Senate Republicans on Thursday stood fast in blocking legislation requiring special interest groups running campaign ads to identify their donors.
Mirroring a Senate vote on the bill last July, all 39 Republicans who voted stopped Democrats from bringing the campaign disclosure bill to the Senate floor. The 59-39 vote fell one short of the 60 needed to advance the legislation. Two Republicans didn't vote.
Republicans dismissed Democratic efforts to revive the bill as an attempt to win political points before the midterm elections.
The White House-backed measure is a response to a 5-4 Supreme Court decision last January overturning a decades-old law that barred corporations, unions and other organizations from spending on advertising, mass mailings and other forms of political activity.
Democrats warned that the ruling would lead to a deluge of ads from shadowy special interest groups financed by corporate millions.
"It's no longer a premonition, it's a reality," said Sen. Charles Schumer, D-N.Y., a main sponsor of the legislation, pointing to special interest ads already running in states such as Ohio and California with hotly contested political races.
"We have these nameless, faceless individuals spending huge amounts of money, corporate money and other money. There is certainly no transparency whatsoever," Democratic Majority Leader Harry Reid, D-Nev., said.
President Barack Obama said in a statement that he was "deeply disappointed by the unanimous Republican blockade." He said the vote was a "victory for special interests and U.S. corporations including foreign-controlled ones who are now allowed to spend unlimited money to fill our airwaves, mailboxes and phone lines right up until Election Day."
---