Meg Whitman loses ground in polls as Nicky Diaz controversy drags on
(Read article summary)
Poll results show Meg Whitman falling slightly behind Jerry Brown in the days following a media blitz about Whitman previously employing Nicky Diaz, an illegal immigrant.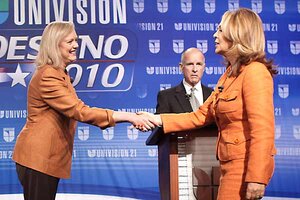 Rich Pedroncelli/AP
New polls show that Meg Whitman is losing ground in the California gubernatorial race, raising questions about how her previous employment of Nicky Diaz Santillan, an illegal immigrant, as a housekeeper might be affecting the race.
Polls taken after the housekeeper story broke last week show the Republican Ms. Whitman falling behind Democrat Jerry Brown by a few percentage points. An automated poll from SurveyUSA released Monday has Mr. Brown ahead 47 to 43 percent, for instance. A Rasmussen Reports update has a slightly larger gap, with Brown up 49 to 44 percent.
Given a margin of error of 3 percentage points or so, the California contest could still be razor-edge close. But the latest surveys are significant because from late August through early September, a number of polls had showed Whitman even with Brown, or maintaining a slight lead. The new numbers, though, have caused Rasmussen to move the race from the "toss-up" column in its gubernatorial race chart, to "leans Democratic."
---
Follow Stories Like This
Get the Monitor stories you care about delivered to your inbox.