Five Democratic candidates Obama is trying to save
(Read article summary)
President Obama will make a campaign swing through the West and Midwest this week, targeting five races the Democrats desperately want to win.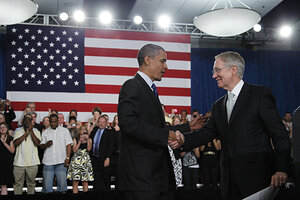 Pablo Martinez Monsivais/AP/file
It's a truism of politics that it is tough to spin how you spend money.
For instance, if a party group pulls back on financial commitments to six House candidates – as the Democratic Congressional Campaign Committee did last week – it's a pretty good indication that headquarters thinks those races are lost.
But if Democrats are spending the money to gas up Air Force One and send the president on a road trip – well, he's only going to go to places where party leaders think he can make a difference on Nov. 2. That means states where Democratic candidates might win, but might lose, too.
So you might want to closely watch the president's travels later this week. From Wednesday into the weekend President Obama will engage in an intense few days of campaigning, swinging down the "Left Coast," then back through the upper Midwest. His path will define a sort of Democratic Arc of Crisis – states where the tightness of key races is making party elders nervous.
Who is Mr. Obama trying to save? Here are five candidates he'll be campaigning for:
---