'The rent is too damn high' steals show at New York governor debate
(Read article summary)
At New York governor debate, the fringe parties take center stage. The leading characters: a former madam making brothel jokes and the candidate of 'the rent is too damn high' party.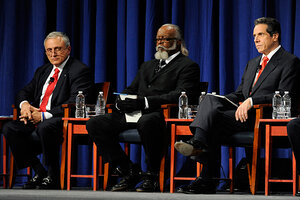 Audrey Tiernan/AP
The people of New York might be forgiven for wondering if it was really a gubernatorial debate they were watching Monday night, or a comedy program that brought together New York's nuttiest would-be politicians.
In the first (and perhaps only) official debate, issues took a back seat – not surprising in a campaign that has been largely about name-calling and personal attacks.
But what is surprising is that Andrew Cuomo, the attorney general and Democratic candidate, and Carl Paladino, the Republican candidate who is a regular headline-grabber, were not the stars of the show.
Instead, the buzz in the blogosphere the morning after is all about Jimmy McMillan.
Who?
The candidate for the "Rent is too damn high" party is running on a single issue, as his self-selected party name suggests: rent.
What he lacked in specifics of how to tackle this problem, he made up for in theatrics: a booming voice, fast-paced patter that includes asides like, "listen –someone's stomach just growled," and copious facial hair. He also wears black gloves – an accessory he says he wears due to Agent Orange exposure in Vietnam.
On gay marriage, Mr. McMillan drew laughs with this one-liner: "If you want to marry a shoe, I'd marry you."
---