NPR, Juan Williams: Did firing put network smack in tea party's crosshairs?
(Read article summary)
The NPR Juan Williams affair may not be a real campaign issue, but it has given conservatives the chance to rail against government waste and liberal elitism, favored targets of tea party groups.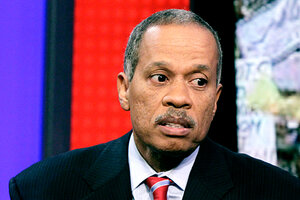 Richard Drew/AP
Has the firing of Juan Williams injected a new hot-button issue into the 2010 midterm elections?
Well, maybe that's going a bit far. It's not like congressional candidates all across the country are taking positions on whether the ex-National Public Radio analyst should have been dismissed for comments about Muslims he made on Fox News. [Editor's note: The parapgraph has been changed to correctly identify Mr. Williams's role at NPR.]
But the Williams affair has provided conservatives with an opportunity to label NPR itself as an example of government waste and liberal elitism. In that sense it's become a symbol of just the sorts of things tea party groups and tea party-backed candidates often campaign against.
Take ex-Alaska Gov. Sarah Palin. She's chortled on her Twitter feed about the widespread reaction to the Williams dismissal.
"NPR & LSM: you're shocked at public outrage over your censorship of Juan? This is what happens when our Constitution starts shaking her fist," Palin tweeted on Thursday.
---