Why independent voters are abandoning the Democrats
(Read article summary)
More independent voters are siding with Republican candidates over the Democrats, a recent poll shows. The lackluster economic recovery and dislike of the health-care reform law are two reasons.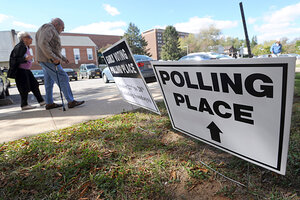 Steve Ruark/AP
With Election Day almost upon us, there's increasing evidence that independent voters are abandoning Democrats and aligning with congressional candidates from the Republican Party. That's a key reason the GOP seems likely to gain control of at least the House, if not the House and Senate, as a result of voting next week.
The latest bit of news confirming this trend is a new Politico/George Washington University Battleground poll. This survey, released Monday, finds that independents are favoring Republicans over Democrats by a 14-point margin.
Self-described independents may have backed Barack Obama in 2008, but they aren't happy with much of what Democrats have accomplished since then. Sixty-two percent of independents have an unfavorable view of President Obama's health-care reform legislation, according to the Politico/GWU poll. Sixty-six percent say the administration's efforts to get the economy going again aren't working.
---