Nevada Senate race: Harry Reid wins in election night's biggest Houdini act
(Read article summary)
The Nevada Senate race was tight and angry up to Election Day, with some polls showing tea party favorite Sharron Angle ahead. But Senate majority leader Harry Reid held on.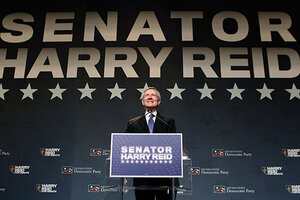 Jae C. Hong/AP
In one of the toughest, most closely-watched, and perhaps weirdest US Senate races, majority leader Harry Reid has defeated GOP challenger and tea party favorite Sharron Angle.
As with California's US Senate race, where Democratic incumbent Barbara Boxer defeated Carly Fiorina, Nevada's election bucked Tuesday night's GOP wave and the tea party-fueled trend against longtime politicians.
Neither Ms. Angle nor Senator Reid was a particularly attractive candidate or an especially articulate speaker, and each had personal quirks that seemed to be magnified in their single live debate. Campaign mud was slung from both quarters.
Reid painted Angle as an "extremist" and "crazy" for her statements about phasing out Social Security and her suggestion that continued Democratic control of Congress might have to be violently addressed by "Second Amendment remedies" – referring to the amendment that addresses the right to bear arms.
---