Charles Rangel guilty of ethics violations: What happens to him now?
(Read article summary)
Despite his conviction on ethics violations by a jury of his peers, Charles Rangel will likely not be forced out of Congress. But his legacy and clout have been diminished, which is no small thing.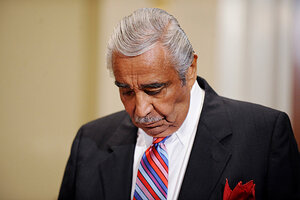 Jonathan Ernst/Reuters
Charles Rangel is a legend in New York politics. The Democratic lawmaker has represented Harlem in Congress for more than 40 years. He was a founding member of the Congressional Black Caucus and served on the House Judiciary Committee when it was weighing the impeachment of Richard Nixon in 1974. Until recently, he was chairman of Ways and Means, perhaps the most powerful congressional committee of all.
Now he stands convicted of 11 House ethics violations by a jury of his peers. What's going to happen to him next?
The short answer to this question is that he faces the equivalent of a sentencing hearing. The full ethics committee will meet to decide an appropriate punishment. All signs point to that being a letter of reprimand or censure. The ethics panel almost certainly will not call for his expulsion from the House.
Members have taken the drastic action of kicking out one of their own only a handful of times in US history – most often for disloyalty to the US government or violation of criminal law.
Some of Congressman Rangel's political opponents are calling upon him to resign. On Tuesday the conservative think tank Americans for Limited Government issued a press release that said, in part, "Rangel must go."
---