Census 2010 results: Republicans' second big win of the year?
(Read article summary)
The GOP, which won control of the House in midterm elections, stands to gain more seats as a result of the Census 2010 results, which show a population shift from blue states to red.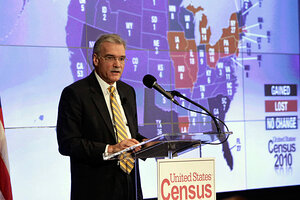 Yuri Gripas/Reuters
For Republicans, 2010 is shaping up as a vintage year. First, in the midterm elections they won back control of the House and made big gains in the Senate. Now the 2010 census results have delivered more good news for the party: Most of the states that will gain House seats as the result of population growth lean to the GOP.
Twelve seats will shift as a result of the 2010 results, said Census Bureau director Robert Groves on Tuesday. Texas will gain four new representatives, and Florida will get two, while Arizona, Georgia, Nevada, South Carolina, Utah, and Washington will gain one each.
Of these winners, Arizona, Florida, Georgia, South Carolina, Texas, and Utah are red states, according to political scientist Charlie Cook's Partisan Voting Index, which measures how strongly state populations are attracted to one party or another.
---