Health care law repeal: Why would it increase the deficit?
(Read article summary)
Health care reform, which the new Republican House leadership is pushing to repeal, includes cuts to government Medicare payments and increased taxes and fees.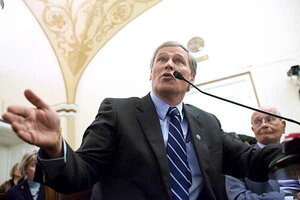 Harry Hamburg/AP
House Republican leaders are pressing forward with their top priority: a vote to repeal President Obama's health care reforms. But Democrats say that in doing so the GOP is abandoning its pledge to exercise fiscal restraint. They claim that rolling back the health reform law would actually add hundreds of billions of dollars to the federal deficit over the next decade.
Why might that be the case?
First off, it must be noted that Republicans think this is hooey. Getting rid of big government programs doesn't cost money, they say.
"I do not believe that repealing the job-killing health care law will increase the deficit," said House Speaker John Boehner of Ohio on Thursday.
However, Democrats have the bean-counters at the Congressional Budget Office on their side. For the most part. (More on that later.)
In a preliminary analysis released Thursday [PDF], the CBO estimated that health care repeal would add $145 billion to the deficit from 2012 to 2019, and $230 billion from 2012 to 2021.
Two main side effects of repeal would cause this gusher of red ink, said CBO.
First, getting rid of health-care reform would mean rescinding planned cuts in federal spending on health care, largely for Medicare.
---