Gabrielle Giffords shooting: Rhetoric not to blame, says the right
(Read article summary)
Gabrielle Giffords shooting points to a 'mindless rage,' but not to a suspect who was moved to violence by heated political rhetoric, say a growing number of voices on the right.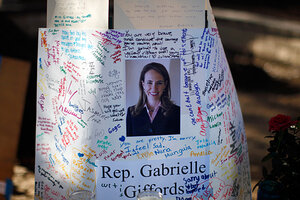 Rick Wilking/Reuters
Three days after Rep. Gabrielle Giffords (D) of Arizona was gravely wounded and six bystanders killed in a rain of gunfire at a Tucson, Ariz., shopping center, some conservatives have begun to push back against charges that their rhetoric has created a political climate which encourages such violence.
They say evidence is mounting that alleged gunman Jared Lee Loughner is a disturbed individual with almost incoherent philosophical beliefs. Mr. Loughner is a registered independent who did not vote in the 2010 elections, and his bookshelf includes works more commonly thought to be leftist, such as "The Communist Manifesto," say some on the right.
"I don't see any political trend there, more than just a mindless rage. I think to add more to that is to give him too much credit," said Rep. Trent Franks (R) of Arizona in a Fox News interview on Monday.
ARIZONA SHOOTING: Seven times politics turned to threats or violence last year
Representative Franks said he was disappointed that Pima County Sheriff Clarence Dupnik "politicized" the tragedy in its immediate aftermath by saying that America's political discourse now features too much dangerous vitriol.
---