Arizona shooting reverberates in Congress. Can it change the culture?
In the halls of Congress, the Arizona shooting has prompted calls to tone down violent rhetoric. But it will take more than reformed lawmakers to change politics' tough-talking culture.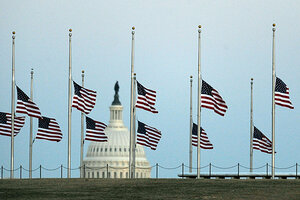 Jonathan Ernst/Reuters
Saturday's mass shooting in Tucson, Ariz., reset the political clock on Capitol Hill Monday, as Congress swept aside the legislative agenda out of respect for those killed or injured, including Rep. Gabrielle Giffords (D) of Arizona and her aide, Gabriel Zimmerman.
The motive for the mass shooting in Tucson is not clear, but that hasn't stopped speculation about what is to blame or how tragedy can be averted in the future.
The most frequent comment on Capitol Hill – short of ubiquitous calls to exercise prudence – is to tone down the toxic rhetoric, especially gun-infused metaphors.
But critics acknowledge that it will take more than just members of Congress altering their tough-talking ways to change the overall culture. Political consultants, fundraisers, the news media are all also addicted to tough talk – and for the same reason, it sells.
"This is a deep cultural style of political expression that has developed over 30 years, and it's not going to be changed overnight," says former House historian Raymond Smock, who led a staff discussion Monday on the issue at the Robert C. Byrd Center for Legislative Studies.
"Politics has always been based on fear … keeping people mad, keeping people on the ragged edge," he adds. "Every once in a while we get sensitized again, but it's hard to change."
---
Follow Stories Like This
Get the Monitor stories you care about delivered to your inbox.