Sarah Palin speaks of 'blood libel.' Really?
(Read article summary)
Sarah Palin, former GOP vice-presidential candidate, charged journalists and pundits with 'blood libel' for linking political rhetoric with the shooting of US Rep. Gabrielle Giffords and 19 others.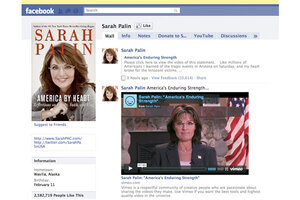 Facebook.com/AP Photo
Sarah Palin has spoken, and in so doing, has fanned the rhetorical flames around the shooting rampage in Tucson, Ariz., last weekend.
Wednesday morning, the 2008 GOP vice-presidential nominee posted an eight-minute video on her Facebook page, expressing sadness and shock over the tragedy in which six people died and Rep. Gabrielle Giffords (D) of Arizona was gravely wounded. Then former Governor Palin waded into the red-hot controversy over political rhetoric and its possible role in inciting the killer.
Palin did not directly refer to charges that her own words and actions – such as posting a map of the US with cross-hairs over congressional districts ripe for Republican takeover, including Giffords's – played a role. But a sense of personal outrage came through loud and clear.
"Especially within hours of a tragedy unfolding, journalists and pundits should not manufacture a blood libel that serves only to incite the very hatred and violence they purport to condemn," she said. "That is reprehensible."
---