The Donald and Sarah Palin hair: a CPAC carnival of conservatism
(Read article summary)
Day 1 of the Conservative Political Action Conference – or CPAC – included Donald Trump touting himself, Michele Bachmann slamming 'Obamacare,' and Rand Paul talking about massive budget cuts. In other words, a classic CPAC day.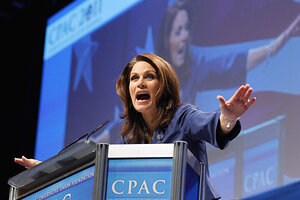 Alex Brandon/AP
"George Washington" is here with his tricorn hat and Don't Tread on Me flag. Young women sport Sarah Palin hairdos, and little Constitutions peek out of young men's shirt pockets – some with Ron Paul 2012 buttons nearby. Oh, and The Donald is in the house.
The unscheduled appearance Thursday by Donald Trump was undoubtedly the highlight of Day 1 of the Conservative Political Action Conference, or CPAC, the carnival of conservatism that descends on Washington every year around this time. But this year, there's more of everything – more people (11,000 and counting), more rowdiness, more potential presidential candidates. And Sarah Palin and Mike Huckabee aren't even coming.
At last count, including Mr. Trump, at least 13 possible contenders for the 2012 Republican presidential nomination will have given speeches by the end of the three-day conference. But no one could match Trump for the wow factor, when rumors began to swirl first thing Thursday morning that he was coming and would reveal that he is thinking of running for president.
---